I am 15 and have deep respect for the Nazis and how they achieved so much. Why don't others share my views?
Let's leave aside the Nazis' butchery—which was barbaric and disgusting, but admittedly impressive—and think about what they achieved for "Aryan" Germans.
By 1945, this is what the Nazis had given the Fatherland: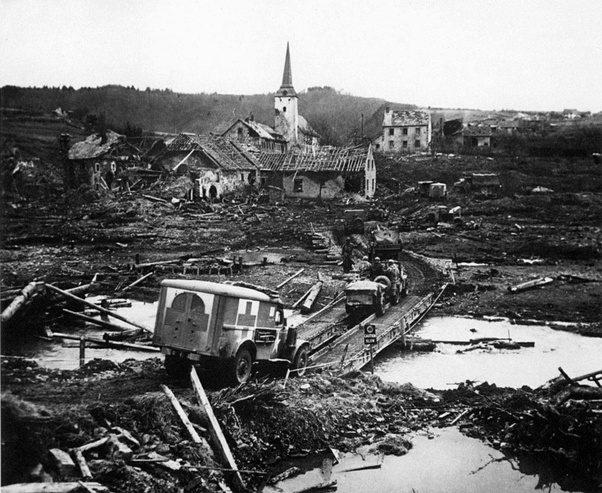 And there's so much that these photos don't capture. The millions dead and wounded. The rape, pillage, and murder by the Red Army as they paid Germany back for Operation Barbarossa. The humiliating surrender and dependency on the Allies. The food shortages so severe that German women prostituted themselves to occupying soldiers for food, "sullying" their "pure Aryan blood".
I want you to take a moment and imagine being one of those women: In 1938, you were proud to know that all other races are genetically inferior to your own Aryan race. Now, seven years later, you're giving birth to the half-black baby of a foreign soldier because sleeping with him was the only way to avoid starving. How desperate must the Germans have been for that to be so common, they coined the word "Negermischlinge" for the mixed-race children of black American soldiers and white German women?
(Of course, there's nothing wrong with mixed-race children. But Nazis sure didn't believe that.)
The Nazis failed. They failed so spectacularly that Germany was partitioned and controlled by the Nazis' ideological enemies—half for Communist puppets of the Kremlin, half for degenerate social democrats and parasitic cosmopolitan capitalists—for fifty years. The grab for Lebensraum backfired; Germany not only lost all the Nazis' gains, they also lost a quarter of their pre-Nazi territory to Poland and Russia. Their desire to restore the pride and honor of Germany instead left the nation indelibly stained with the blood of its victims.
The Nazis reached dizzying heights in technology and industry, but they lost all of that in the war, too. The Allies dismantled German factories and shipped them abroad; they scooped up German scientists and engineers and used them for their own ends. Prewar Germany was a leader in physics and chemistry; today, the chemistry journal Angewandte Chemie is published in English by an American company, and the United States invented the atomic bomb thanks to a push from Nazi refugee Albert Einstein. Americans and Soviets won a permanent place in history by conquering space with German-derived rocket designs, and in America's case, with German engineers.
The Nazis did successfully murder a third of all Jews—but the remaining two-thirds are more powerful than ever. In the form of Israel, the Jews now have more military planes, tanks, and U-boats than Germany, and nearly as many active-duty troops, despite having one-tenth the population. Israel is (probably) a nuclear power; Germany is not. Can you imagine how angry Hitler would be if he knew?
The Roma? They're thriving in Europe. Homosexuals? They can marry now in many Western countries. Intellectuals? We're living in the age of the nerd. Racial minorities? They've never been freer. Women? They've never defied the Nazis' ideas of "their place" more. Disabled people? They've never gotten more resources and attention than they do now.
Everything the Nazis wanted to prevent, instead happened with a vengeance. Every one of their hopes and dreams came crashing down around them. And it was all their fault. They were the authors of their own demise.
And this wasn't just a tactical error; it's not like Hitler made a couple military blunders and lost as a result. Military expansion is a necessary component of Nazism. Nazis will always start war after war until eventually they start a war they can't finish.
Nazism is seductive; even now, as in 1938, it projects the image of vitality, achievement, and success. But even now, as in 1938, this image is a mirage.
Today, German schools teach German children, over and over, that the Nazis were horrible and that each and every one of them bears the responsibility to right their wrongs and prevent their return. If even the Germans themselves now believe the Nazis were the worst people ever, maybe that should color your opinion of them.
When people think of the Nazis' achievements, they usually think of things like this:
That is what the Nazis achieved for the Fatherland. Destruction and defeat, humiliation and shame, ruin and death. Those are what you should think of when you think of the Nazis.