Why did bagpipers march into battle knowing they were unarmed and would likely be targeted?
Truthfully, as insane as it may sound, people who were unarmed in combat were generally not targeted. (In classic warfare anyway…. guerrilla and modern warfare today are a whole other ball game.)
The reason they weren't targeted is exactly because they were unarmed - meaning they aren't going to be inflicting any casualties to your side so why bother wasting the energy or ammunition to take them out?
Scotsmen and other nationalities that had traditions of marching into battle with music were following just that. Tradition.
Drums were surely used to keep soldiers in step or to signal command changes when necessary over all the noise of battle, but otherwise it was simply tradition and in a gentlemen's war or any war where there are two clear sides opposing each other with a rule of warfare - generally speaking, a bagpipe player isn't going to be targeted because what's the point.
Putting decorum aside - Imagine yourself in the heat of battle and chaos and you are looking all around for potential threats between swinging arms or the firing of rifles. You are going to be locked on the threats and not worrying about the fellow with a trumpet marching around.
One player that history would remember is Bill Millin during the Normandy invasion in WW2.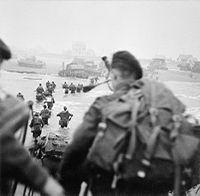 Bill Millin was a 21 year old Canadian born Scotsmen who was the personal piper to Simon Fraser - commander of the 1 Special Services Brigade at Sword Beach. Bill arrived on the landing craft with his bagpipes and was ordered to play by his commander as they began their assault onto the beach. (Even though it was against army regulation for pipers to play on the front lines, Fraser instructed Bill that this was English regulation and since they were Scots it didn't apply to them. He would play.)
That's just what Bill did. He marched up the beach bagpipin' away in his kilt (that's right, he was also wearing a kilt with nothing underneath - except for his massive set of balls - on D-Day) as the Germans fired off their linoleum rippers at the invaders, raining bullets and mortar fire, commandos taking hits all around him, he made it through unharmed. Although, a piece of shrapnel did go through his bagpipe. That didn't stop him though, he just pulled out his spare bag and went on pipin' some more.
Later on, well after the war, Millin met with some of the Germans that were present that day. Of course they remembered him because how many other mad pipers march up a beach in the middle of an invasion. When asked why they never fired on him the answer was: "We thought he was a dummkopf, (or out of his head), why waste bullets on a dummkopf?"
He played again on the 35th anniversary of the landings.
Bill's statue at Sword Beach today.