What medical condition do you have that you thought was absolutely normal?
I have a condition called dermatographic urticaria, or "skin graffiti".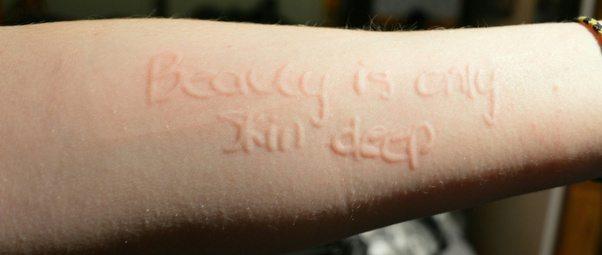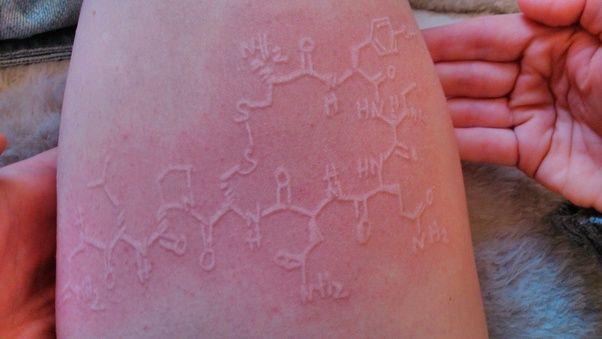 It's a skin condition in which the afflicted's immune system is hyper-sensitive and causes allergic-like reactions to pretty much everything. About 3–5% of the population has it, so I really wouldn't be surprised if quite a few people reading this do as well. Feel free to comment below if you yourself didn't realize this was an actual medical condition!
Basically, my immune system goes haywire when it feels physical pressure, and responds by forming these sort-of-welts on my skin. I'd find it pretty annoying except for the fact that you can control what skin rises up based on where the pressure is applied (which you can see in the pictures above); thus the colloquial nickname "skin graffiti" or "skin writing". Usually this is accomplished by scratching lightly, which, contrary to popular belief, doesn't hurt in the slightest. People who first meet me are usually very alarmed when they see all these red line thingys on my skin, and sometimes assume I'm self-harming, which is pretty awkward to talk my way out of. (Don't worry, it's just harmless fun, guys!)
I know I've had it since at least seven years old, because I have memories of just scratching at an itch or something and then watching the raised lines that formed afterwards with a dull curiosity. One of my strongest memories is listening to my mom trying to teach me how to do mental long division and deciding to cheat by scratching the problem out on my legs. (I thought it was the cleverest idea in the world at the time. She still doesn't know a thing.)
The first time I realized that this wasn't just a commonplace thing was when I saw a Tumblr post with all this breathtaking skin art on it, along with a description that explained what dermatographia was. I just sort of blinked in surprise, because, number one, I hadn't realized this was an actual skin condition that was relatively rare amongst the world population, and number two, I'd pretty much just been doing it to solve math problems, not creating amazing things like this.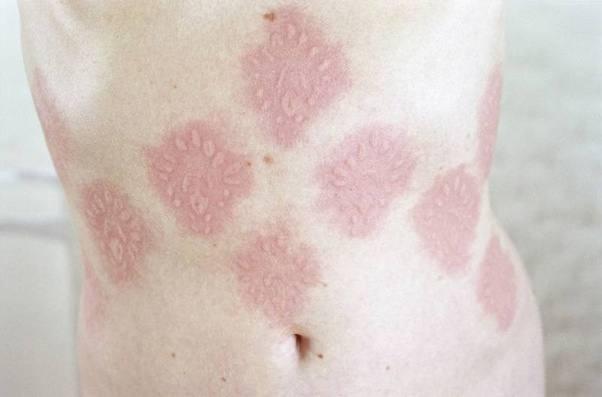 Sigh. I have five hundred thousand talented and artistic friends, and yet somehow I'm the one who ends up with dermatographia.
I honestly don't really use it for anything useful, now that I can reasonably solve long division in my head. Mostly my friends just draw dicks in my arm in class, which is what I deserve for deciding that telling immature high schoolers about this would be a good idea, but I'm considering implementing it in a Halloween costume- maybe I could write "HELP" and "SAVE ME" backwards all across my arms so it looks like something's trying to get out. ;)