What is the bravest recorded act of valour in most recent military times by a soldier of any country?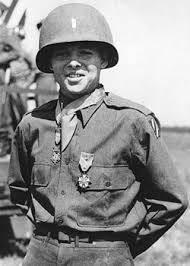 It was achieved one gloomy January day in the French countryside in 1945 by this guy, Audie Murphy. He might not look like the biggest badass of all time, but he is one of the most decorated soldiers in US history, and that's not for nothin'. Murphy was even given the coveted title of "Badass of the Week" by the venerable websiteBadassoftheweek.com (Badass of the Week: Audie Murphy) No, I didn't know that site existed either. Check it out.
He was awarded every combat medal for valor that our country has to offer. Apparently other nations thought that wasn't enough, so the French and Belgian governments threw some well deserved medals for heroism in there as well. By the time he was finished with his military service he was wearing enough brass on his uniform to make a couple spittoons.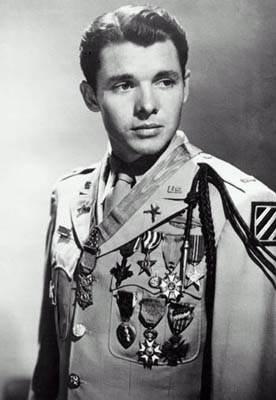 **Murphy could probably be credited for creating the first modern body armor because all of those medals on his chest would likely stop a round or two.
As a preface to this man's awesomeness, here is a list of the military awards that he earned during his years of service to our great nation:
The Medal of Honor
Distinguished Service Cross
Two Silver Stars
Legion of Merit
Two Bronze Stars
Three Purple Hearts
U.S. Army Outstanding Civilian Service Medal
Good Conduct Medal
Two Presidential Unit Citations
American Campaign Medal
European-African-Middle Eastern Campaign Medal with One Silver Star,

World War II Victory Medal
Army of Occupation Medal
Armed Forces Reserve Medal
Combat Infantry Badge
Marksman Badge with Rifle Bar
Expert Badge with Bayonet Bar
French Fourragere in Colors of the Croix de Guerre
French Legion of Honor, Grade of Chevalier
French Croix de Guerre With Silver Star
French Croix de Guerre with Palm
Medal of Liberated France
Belgian Croix de Guerre 1940 Palm
Murphy was awarded the Medal of Honor at the age of 19. Nineteen! I don't know what you were doing at that age, but my actions certainly weren't worthy of any medals. Except maybe for beer drinking… but I digress.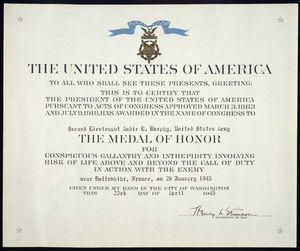 This 5′5″ (165 cm) tall 125 lbs (57 kg) when soaking wet dynamo received our nation's highest military honor for single-handedly holding off an entire company of German soldiers for over an hour at the Colmar Pocket in France on January 24th, 1945. His citation for bravery reads like a movie script.
Lieutenant Murphy was Commander of Company B, 15th Regiment, 3rd Infantry Division. On January 23rd, Company B was involved in a furious battle with a superior number of German troops. Murphy was the only officer from his company that survived the onslaught. One hundred-two of the company's 120 enlisted men were either killed or wounded. The following day, he and his remaining 18 men were attacked by six tanks and waves of Nazi infantry. Murphy ordered his men back to fighting positions deep in the woods while he stood fast and gave firing directions to nearby artillery by field phone, thus killing scores of German soldiers.
In an interview years later Murphy was asked why he decided to remain alone, well ahead of his troops. He replied, "It was not a heroic act. I figured if one man could do the job, why risk the lives of others". During the continuing carnage, a US tank destroyer was hit and began to burn. The commander and gunner were immediately killed. The remaining crew fortunately managed to bail out and retreat into the woods.
So now we have Murphy out front, all by himself, with Nazi tanks and infantry still headed his way. He was calling in artillery on the enemy tanks while at the same time firing at advancing German infantry soldiers with his carbine.
He would later describe his situation like this:
"I loved that artillery. I could see Kraut soldiers disappear in clouds of smoke and snow, hear them scream and shout, yet they came on and on as though nothing would stop them."
The advancing Germans got to within 50 meters of Murphy's location. Still on the phone, a nervous Lieutenant on the other end inquired about how close the enemy was from his position. Murphy replied, "If you just hold the phone a minute, I'll let you talk to one of the bastards". That's one hell of a line.
What does our hero do next, try to seek cover like a sane person? Hell no, not Audie Murphy. He jumped up on the burning tank destroyer (which was in danger of blowing up at any instant) grabbed the .50 caliber machine gun and began to rain down hell upon the enemy.
The following is taken directly from his Medal of Honor (MOH) citation:
"He was alone and exposed to the German fire from three sides, but his deadly fire killed dozens of Germans and caused their infantry attack to waver. The enemy tanks, losing infantry support, began to fall back."
Remember, the remaining survivors of Company B are back in the woodline, hopefully providing some kind of supressive fire. Murphy held this position on the tank destroyer for over an hour with German soldiers doing their damnedest to kill him. They failed miserably. During that hour, they made the mistake of sending an entire squad to sneak up on Murphy from his right flank. Some managed to get as close as 9 meters to him. He killed each and every one of them.
In the course of trying to kill him, they did manage to wound Lieutenant Murphy in the legs, but he ignored the minor inconvenience of blood spurting from his lower extremities and continued his one-man fight until all of his ammo was exhausted.
Only then did he return to his distant company (if you can call 18 men a company) and reorganize them into a counterattack which forced the few remaining Germans to retreat. Did I mention that although he was bleeding profusely from his wounds, he refused any medical attention and went straight back into the fight?
Once again quoting from his MOH citation: "he personally killed or wounded about 50 (enemy troops)" All of that without giving up so much as an inch of territory to the enemy.
And just think, he accomplished all of this in a period of time not much more than 24 hours.
Audie Murphy, American Badass.