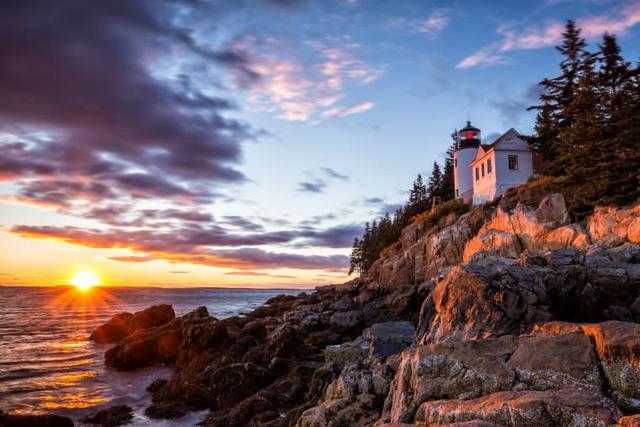 Credit: f11photo/ShutterstockThe Bass Harbor Head lighthouse, across the bay from Swans Island
Imagine, a quaint life on an island off the coast of Maine. Winters are cold and quiet. Summers are picturesque. You run the island's inn and meet a new cast of characters weekly, and perhaps you even fall in love. Okay, that last part is optional, but this whole thing was sounding like a Hallmark movie in the making. The Harbor Watch Inn on Swans Island, Maine (population approximately 330 people) is looking for a new innkeeper. And in Hallmark movie fashion, the person who writes the best essay gets the job.

The current owners of the Harbor Watch are currently running a contest called "Win Our Inn." Until March 31, contestants can enter to win the inn by submitting a 350-word essay about why they would be the best person for the job.
"Have you always wanted to own an inn, but didn't know where to start?" the Harbor Watch Inn contest page asks. "Here's your chance to get a turn-key operation for next to nothing. Enter our essay contest for $99 and if your entry is selected by our judges, you win our 5-unit inn plus $25,000 in an operating fund."
The Inn itself is described as "modest" and offers five rooms available for booking, including one full apartment on the top floor. The Inn is close to Swans Island's marine museum, local beaches, and hiking and kayaking attractions.
Entrants must be aged 18 or older and have no affiliation with a contest judge or Harbor Watch Swans Island, LLC. Essays will be judged by those with experience in the writing industry and will base their judgement on "subject matter, storytelling impact, composition and creativity of each entry."
Upon winning, the new innkeeper will receive the quitclaim deed to the entire property, which will be transferred as-is with no warranties, covenants, inspections or disclosures, as stated on the contest legal page. The $25,000 will also be awarded to the winner for immediate use on the property, and the winner must agree to operate the Harbor Watch Inn as a motel for at least 12 months after closing.
Enter before March 31 for a chance to win the Harbor Watch Inn. The winner will be announced on May 1, so you may want to start packing your bags (and plotting your very own Hallmark movie experience) now.