We hope you love the products we recommend! Just so you know, BuzzFeed may collect a share of sales or other compensation from the links on this page. Oh, and FYI — prices are accurate and items in stock as of time of publication.
1. A sequin flapper dress stolen from the closet of Daisy Buchanan herself. Pair this with some pearls and get ready to ruin the life of a man known as Gatsby.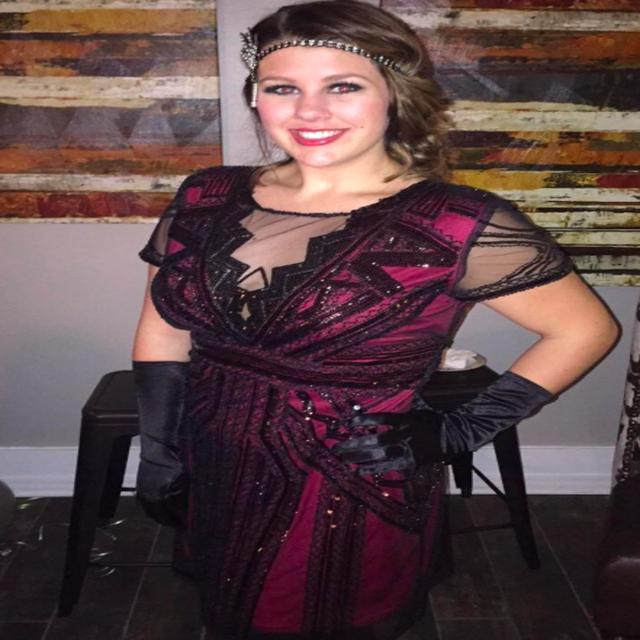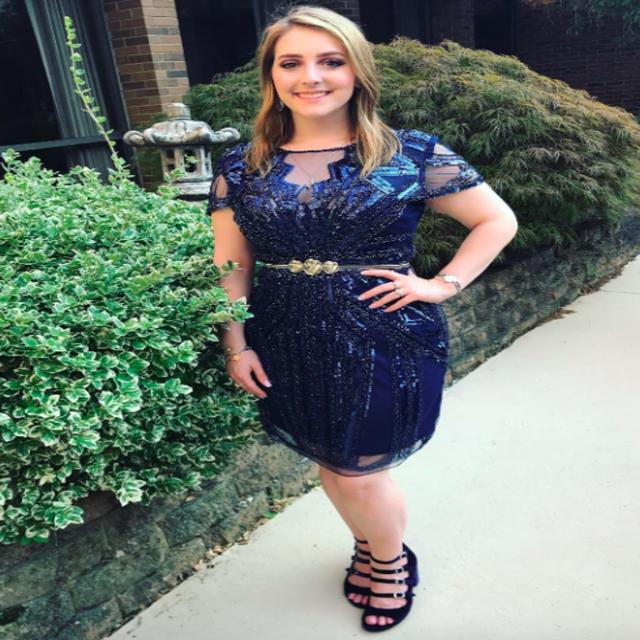 Promising review: "I absolutely ADORE this dress! I bought it for a show I'm going to see in New York, and it fits perfectly! Great product ESPECIALLY for the price!" —Anna Thomas
Price: $33.99+ (available in sizes XS-XL and in eight colors)
2. Butterfly wings for an easy and simple costume you can throw on over any black ensemble. Going to a party that requires you dress up (and you really don't want to)? Here is your quick solution.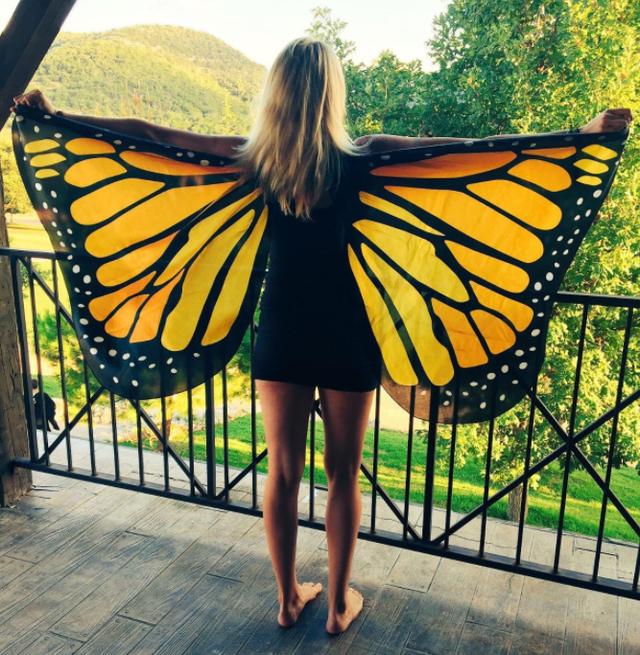 Promising review: "Such beautiful wings! These helped make such a stunning and easy costume when paired with a black shirt and skirt for my daughter! She received so many compliments on them. Plus, these wings are great quality — especially for the price!" —Kansas Mom to Four
Price: $9.85 (available in three colors)
3. A Flo from Progressive costume guaranteed to be the life of the Halloween party — and by life of the Halloween party, I mean that several strangers will be coming up to you and asking about complicated insurance policies. You've been warned.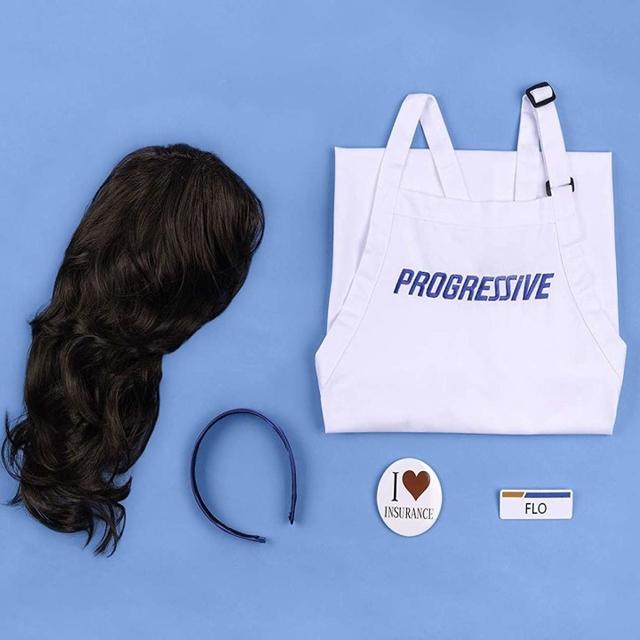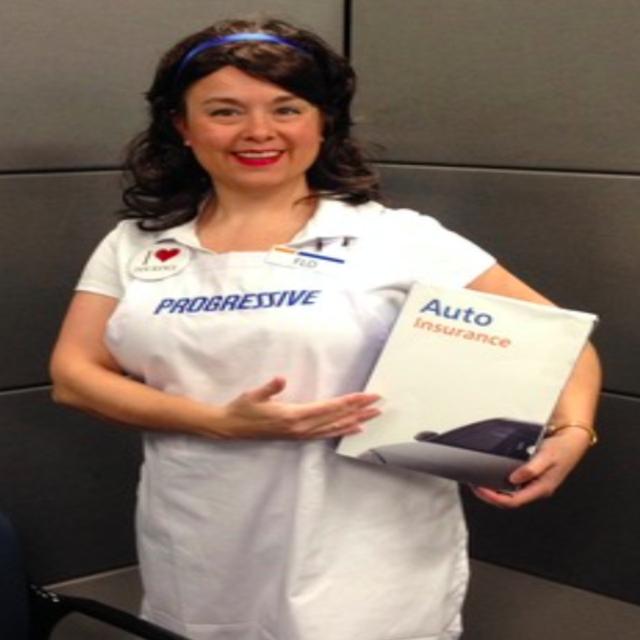 Amazon, amazon.com
This costume comes with an apron, a wig, a headband, a name tag, and an "I heart insurance" button.
Promising review: "Getting TONS of compliments on this costume today! PERFECT! I was afraid the wig would be of poor quality, but I was FAR from disappointed. Took it out of the packaging, brushed it out, and hung it up so it could relax for a few days prior to wearing it. I rarely dress up for Halloween, but was invited to a function that required a costume this year. Have had a barrel of laughs with it so far." —Jen G.
Price: $33.95 (one size fits most)
4. A PB&J set that, unfortunately, does not come with the crusts cut off. It also doesn't come with a baseball bat.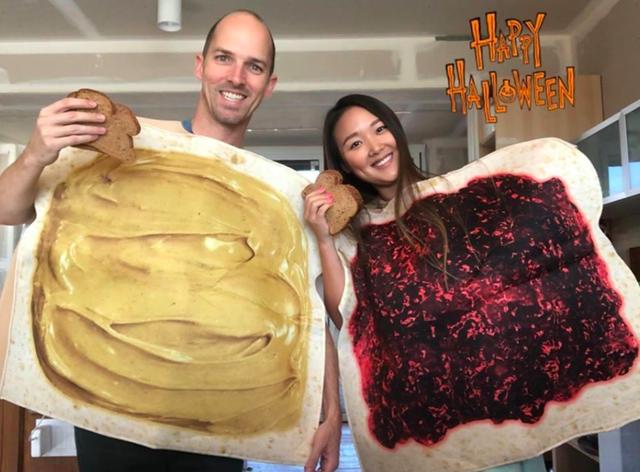 Promising review: "Remember last year when you went to John's Halloween party dressed as that obscure reference from that foreign film. You really liked the costume, until no one else understood what you were supposed to be. You thought about for a whole year until finally it was Halloween again and just when you were about to give up on finding the perfect costume you came across this. The Peanut Butter and Jelly costume set. The pinnacle of easy and fun costume ideas, allowing you to not only become the life of the party but to enjoy being the life of the party with your closest friend or loved one." —Josh Stanley
Price: $33
5. A glow-in-the-dark catsuit that's pretty damn simple. If you're looking for a bare-bones ensemble, this is it!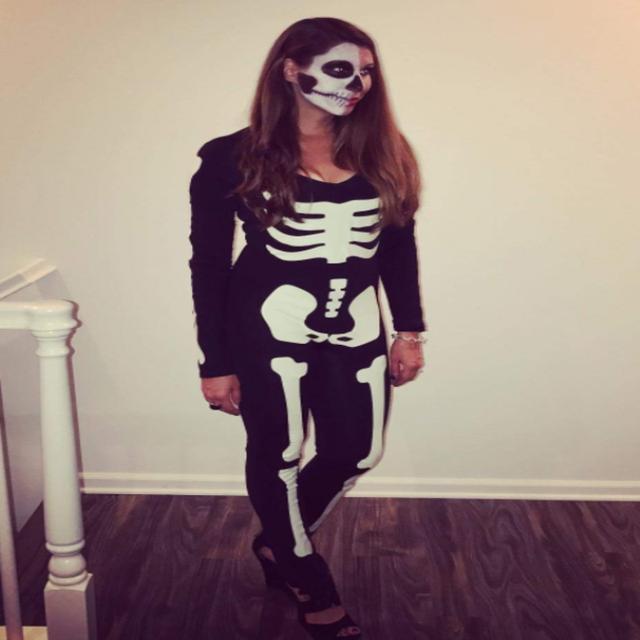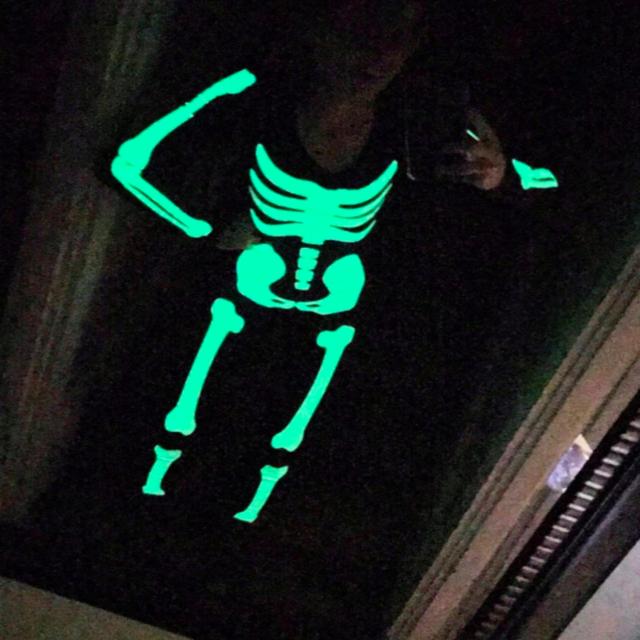 Promising review: "This costume fits like a glove! It's comfortable, the material is thicker than I expected, and the glow-in-the-dark feature looks awesome at night." —Kindle Customer
Price: $33.74+ (available in sizes XS-L)
6. A ragdoll costume known to have a huge attitude problem. It's always a total nightmare, especially right before Christmas.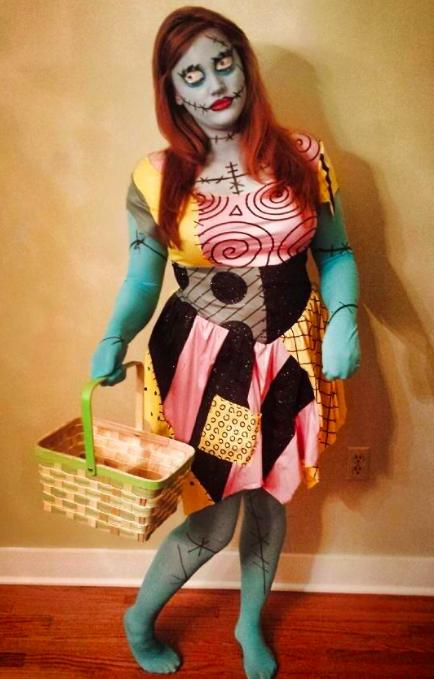 This costume comes with a dress, gloves, and a wig.
Promising review: "The quality of the costume is great! The colors are vibrant, and the material is comfortable. The wig fit awkwardly at first, but we were able to make it work perfectly!" —Molly
Price: $31.60+ (available in sizes S-L)
7. A costume kit you shouldn't purchase if you're prone to losing everything. This striped shirt, beanie, and clear glasses kit will be nearly impossible to locate once gone.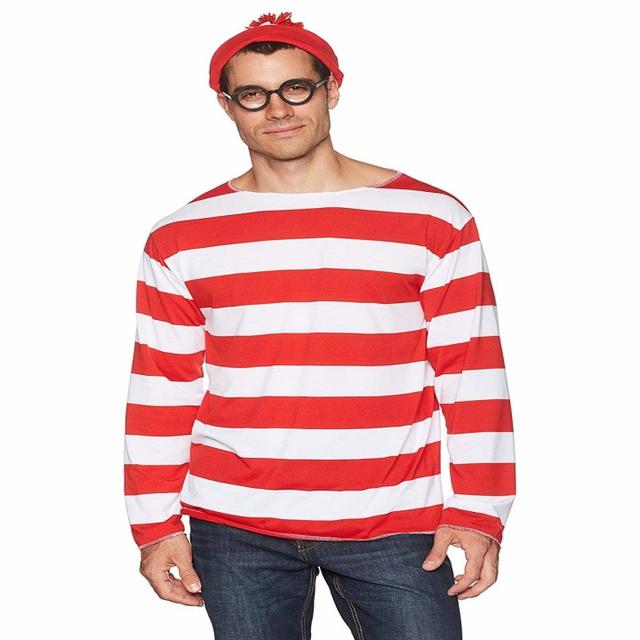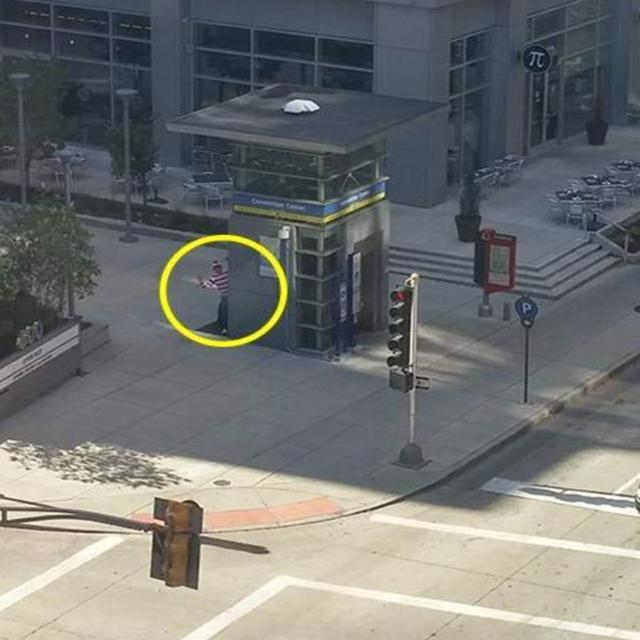 Amazon, amazon.com
This kit comes with a sleeved shirt, a beanie, and glasses!
Promising review: "This was probably the easiest costume I have ever worn. It consists of three pieces: The shirt, the hat, and the glasses. It's difficult to tell from the pictures, but the glasses do actually have glass (or some sort of see-through material) in the eye slots, but they do not alter your vision. The shirt tucked in well with my blue jeans, and I did a pretty good job of pulling off the Waldo look. It was well worth the money and after a day of wearing it, I stuffed it back into its storage case, where it can sit for a few years before I pull it out and re-use it again. I highly recommend giving it a try if you want a cheap, easy costume and a laugh from the people you'll meet." —Joshua C.
Price: $15.99+ (available in sizes XS-XL)
8. An inflatable T. rex costume you'll want to wear to the park. Jurassic Park, that is...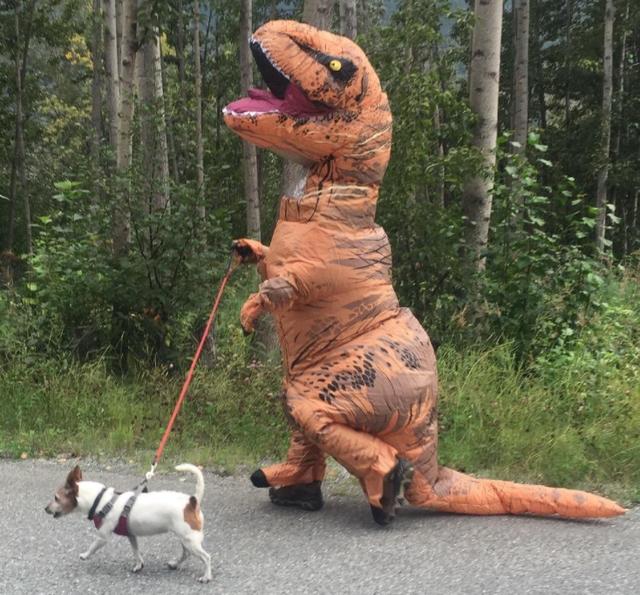 Promising review: "BEST PURCHASE I HAVE EVER MADE! Seriously, how awesome is this costume? I didn't even buy it for Halloween, I literally just wanted to dress up like a T-Rex from time to time. Plus, my son loves it. I put it on and we have dance parties. It's the little things in life. Two small thumbs on very short arms up!" —JPie612
Price: $42.67+
9. A clown costume guaranteed to have everyone feeling a little more than creeped out, which basically makes you a shoo-in for that costume contest cash prize. Take my word forIT: this is sure to be a winner!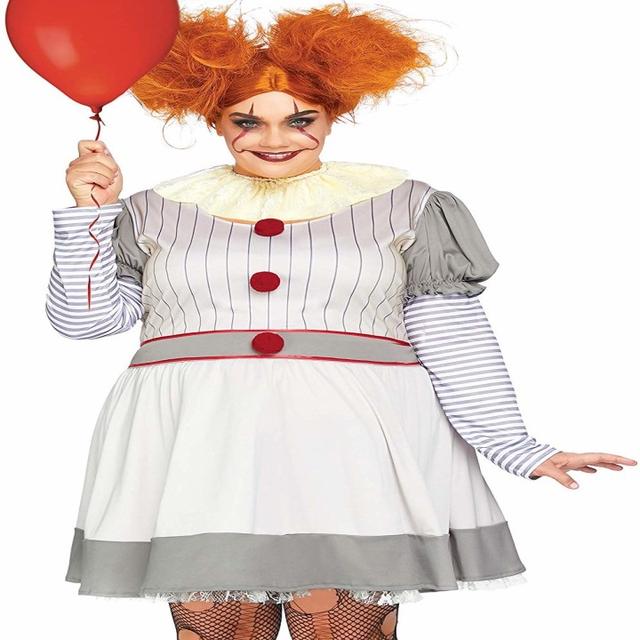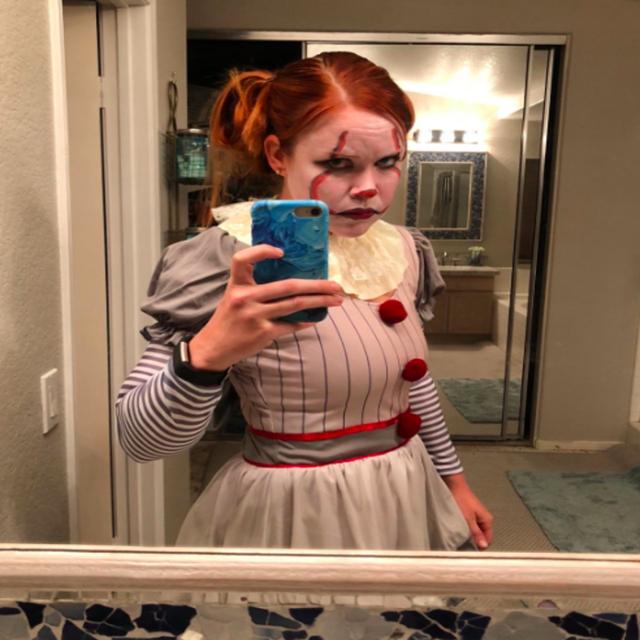 Amazon, amazon.com
Promising review: "This costume fit perfectly and was comfortable. We won our office Halloween contest and then I won the costume contest at another Halloween party." —Michelle
Price: $27.95+ (available in sizes S-3X)
10. A mermaid costume trying to be part of your world. It's just really sick of being stuck under the sea, you know?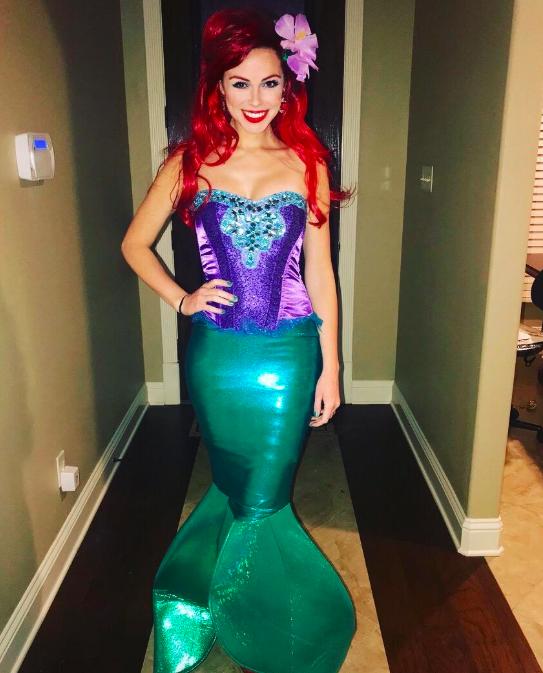 Psst, get the matching wig on Amazon for $23.66 (available in 12 colors).
Promising review: "This is so dang cute, plus it didn't break the bank! The quality is fantastic, and I got compliments on it all night. It's form-fitting in all the right places, and I love the the pretty shine to the material of the 'tail'." —Crissy
Price: $44.01+ (available in sizes S-L)
11. A Rey costume you certainly won't have to ~force~ any Star Wars devotee to wear.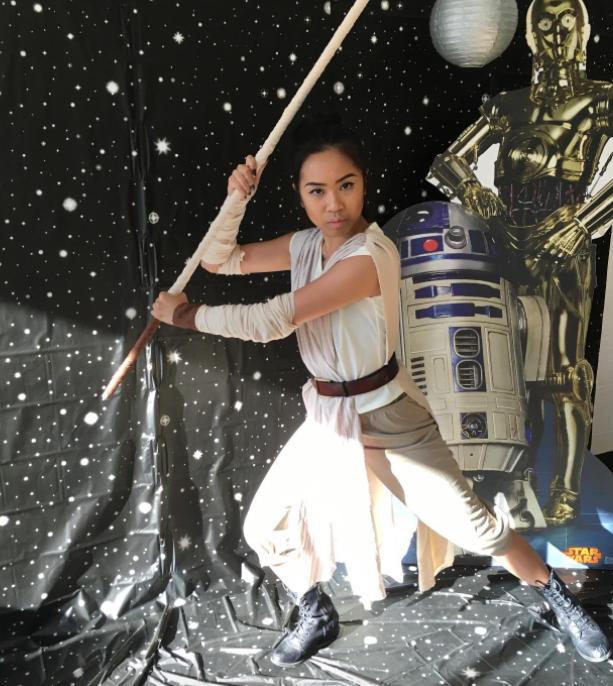 Promising review: "I couldn't have asked for a better last minute Halloween costume! I've talked about being Rey all year long, so I decided to go for it. I was not disappointed! I ordered a size up, and it fit perfectly." —conlch
Price: $27.25+ (available in sizes S-XL)
12. A swing cocktail dress complete with a scarf and belt to emulate all things roller blades, malt shakes, and diners. Prepare to fool everyone into thinking that you're a senior at Rydell High. *starts to hum chang chang changitty chang shoobop*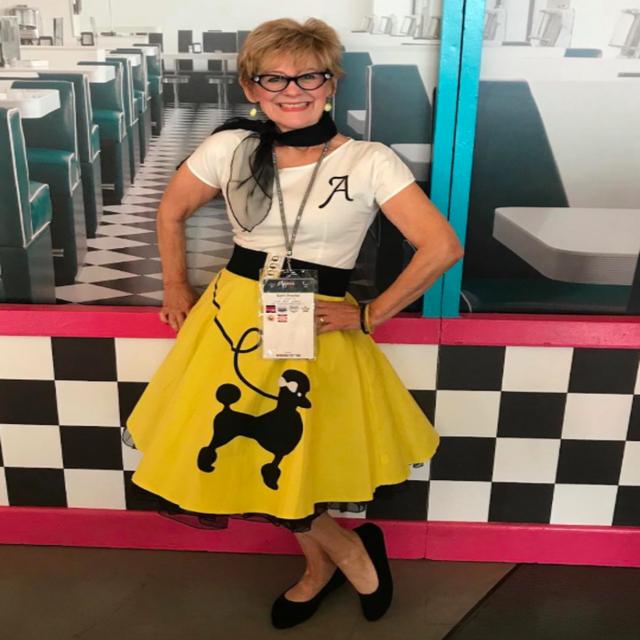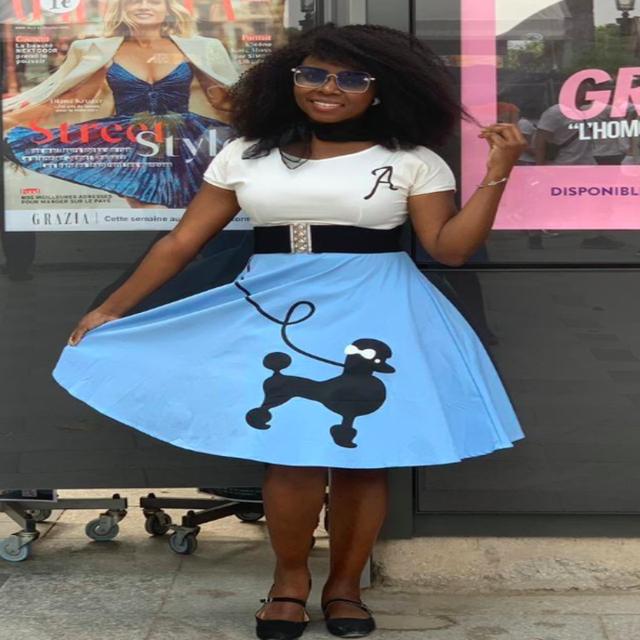 Promising review: "I bought this dress for a 1950's vintage party theme and it looked really cute. I used the size chart and it fit perfectly. Love the dark blue shade of the dress! I also bought a black tutu to give it more flare." —Amazon Customer
Price: $26.99+ (available in sizes S-XXL and in five colors)
13. A warrior costume specifically designed for the kind of mother who CONSTANTLY posts about her children on social media. We get it! You love your dragons!!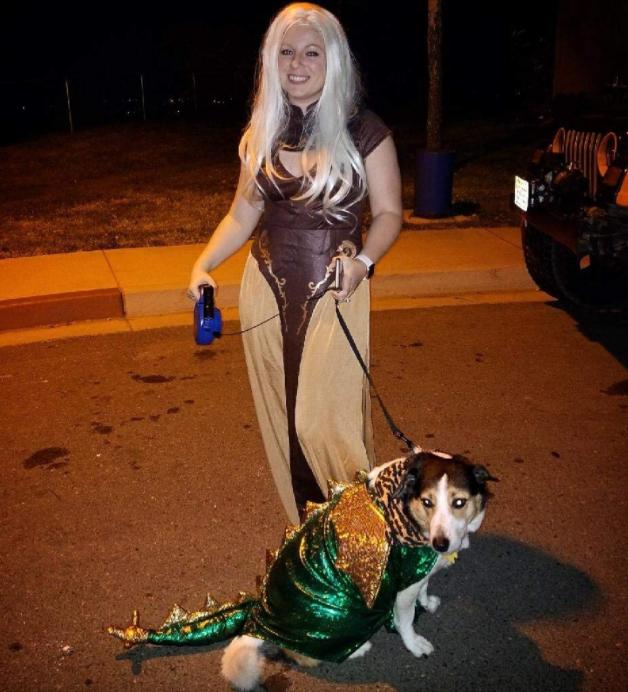 Promising review: "LOVE it! This worked perfectly for my Halloween costume, I got LOTS of compliments on it, and it's pretty good quality for a costume. Plus, it's very comfortable and flattering." —Halini Brune
Price: $26.16+ (available in sizes S-L)
14. A Freddy Krueger costume guaranteed to give you the sweetest dreams possible. Nightmares? On Elm street? That's the OLD Freddy Krueger. People (er, ghosts) change!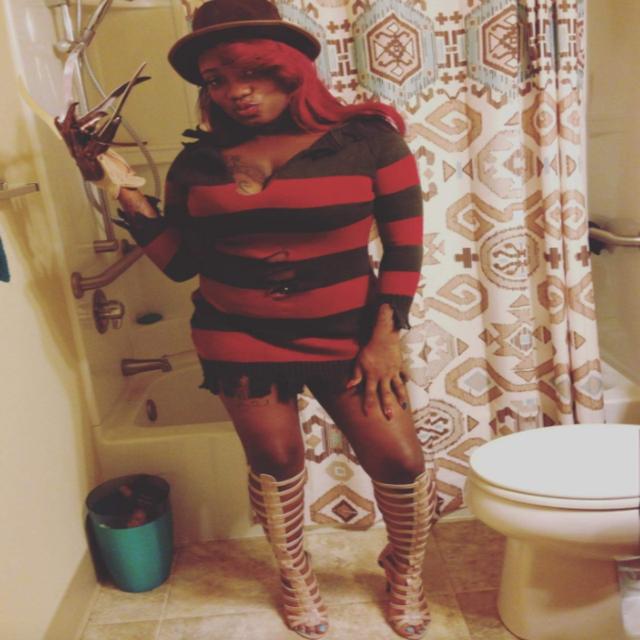 And yep, this costume comes with a hat and that creepy AF glove!
Promising review: "I got so many compliments on this outfit. It is stunner! I had to wear black leggings under the dress because it was a little short on me, but it looked like part of the costume so it worked well." —Bull City
Price: $30+ (available in sizes XS-L)
15. A cozy costume you might not want to order, despite its cuteness. Why? It'll make you feel a little batty.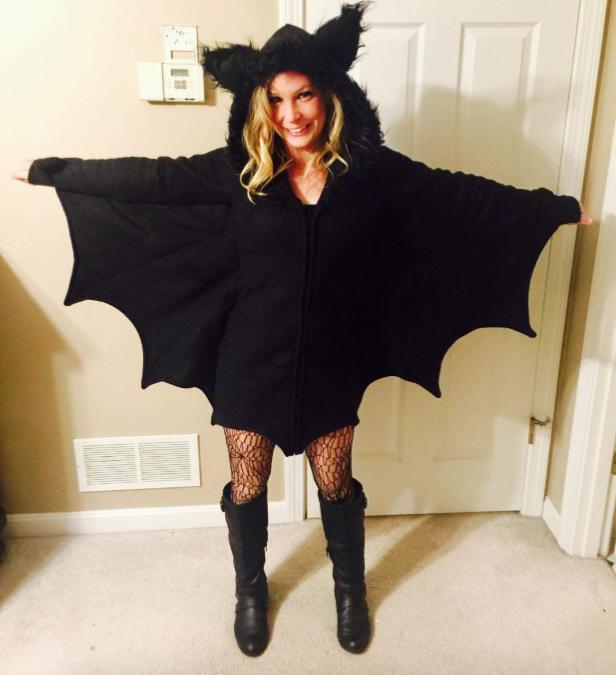 Promising review: "This is so cute!! I got this for Halloween, and everyone loved it! It's super warm and comfortable, which is perfect for the fall weather." —Jennifer C.
Price: $34+ (available in sizes XS-6X)
16. A Ghostbusters jumpsuit complete with five interchangeable name tags and an inflatable backpack, meaning you'll be ready to capture ghouls the second your hotline rings.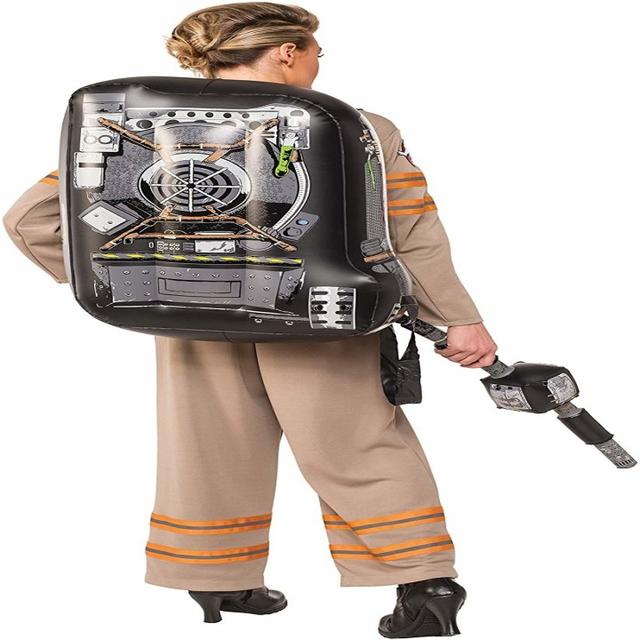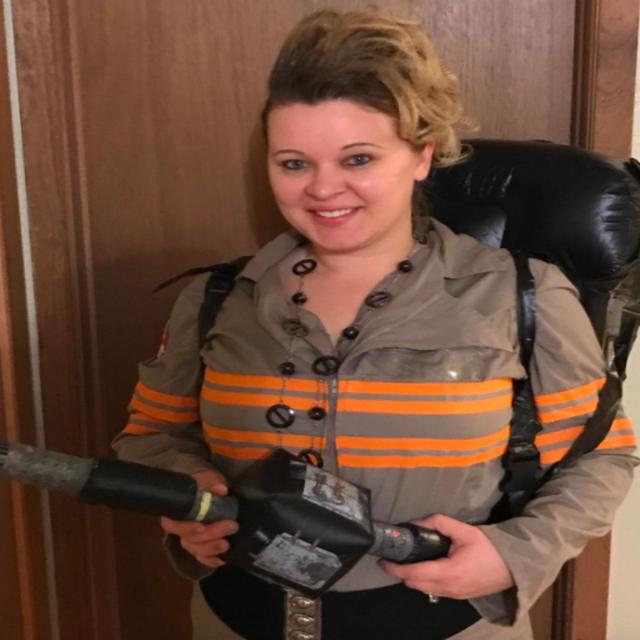 Amazon, amazon.com
Promising review: "PERFECT for Halloween. The inflatable proton pack and name tags were a great addition, plus it fit well and stood up to the evening's activities!" —Jocelyn & Christopher Gerrits
Price: $31.99+ (available in sizes S-L)
17. An Angelica Pickles onesie that will give you a high horse like you wouldn't believe! Suddenly, everyone will seem like a stupid baby to you.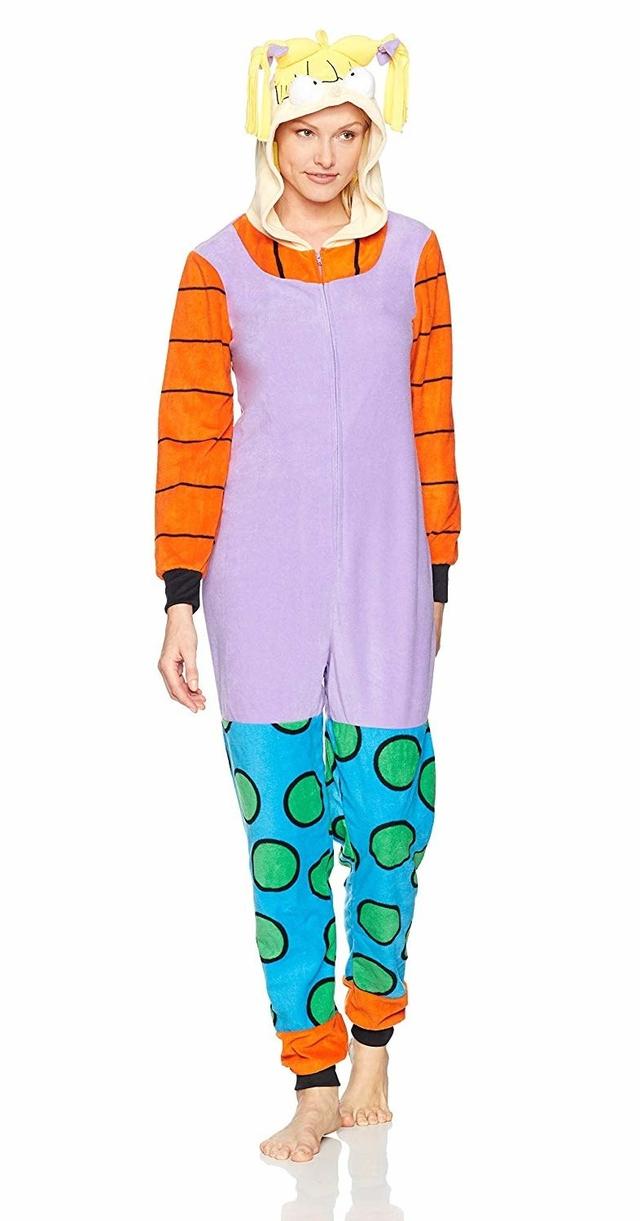 Amazon
Promising review: "I grew up watching this cartoon and I'm a big fan, so I felt like a kid again when I purchased this. I ordered a M and it fit very roomy (I could have purchased a small but I don't mind the extra room)." —Neshia
Price: $34+ (available in sizes S-XL)
18. A red wedding dress for anyone who relates to Lydia Deetz on a personal level (strange and unusual, hates happiness, etc.) AND OF COURSE — her sidekick (kind of), Beetlejuice.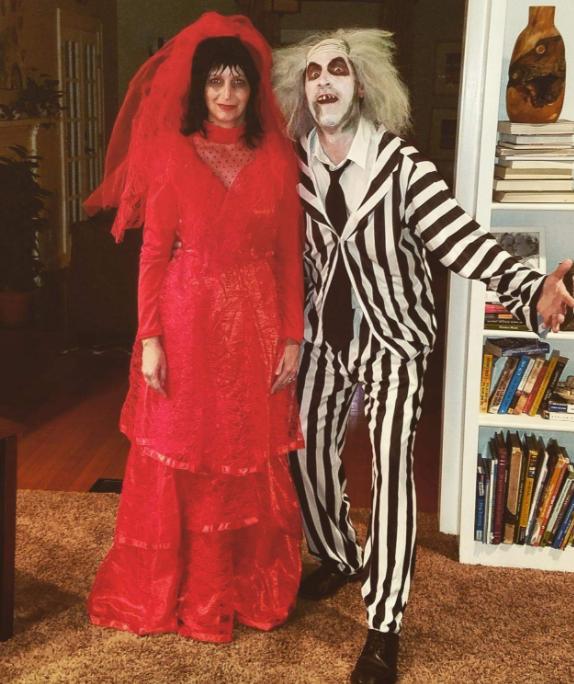 Price: $59.99 (Lydia Deetz, available in sizes XS-L) and $28.19+ (Beetlejuice)
19. A voodoo doll costume that includes a dress, novelty stick, heart pins, and really cool embroidered tights that I would actually want to wear again? Fash-un.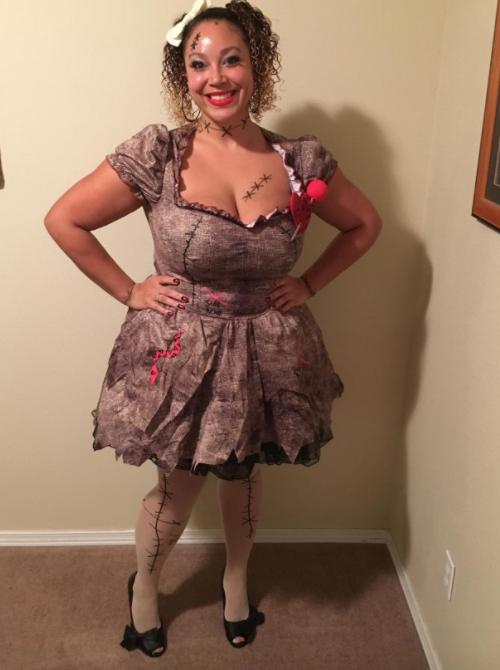 Promising review: "This costume is EVERYTHING! It also has a sash in the back that allows you to tighten the waist! So excited to wear this next weekend! (I'm typing this review as I wear the costume in front of company...refusing to take the outfit off.)" —Amazon Customer
Price: $28.44+ (available in sizes XS-XL)
20. A collared dress for the DIY Halloween connoisseur. Not only can you add this dress to your everyday wardrobe rotation, but Wednesday Addams? Madeline? Eleven from Stranger Things? All in the realm of costume possibility.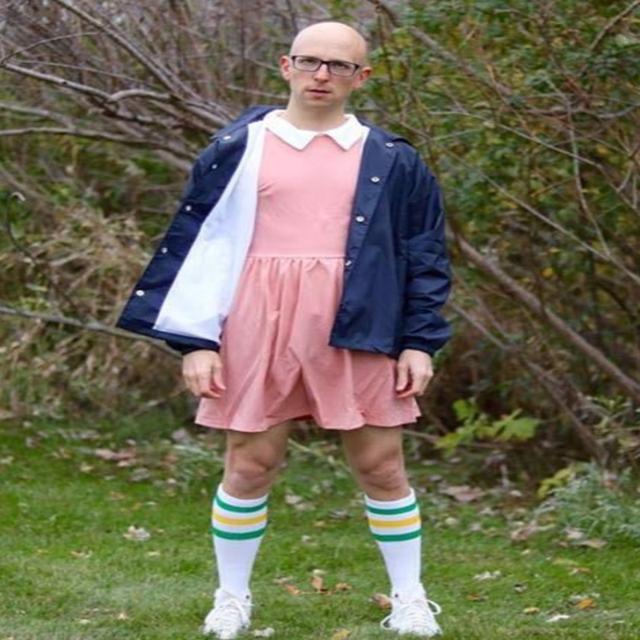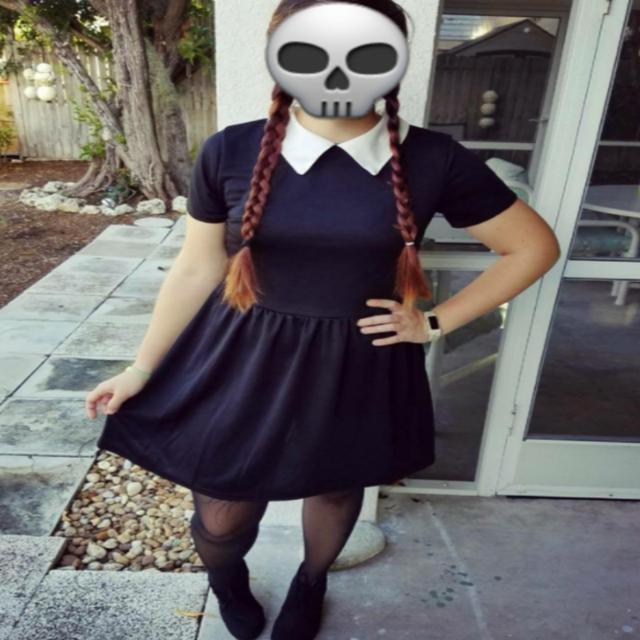 Promising review: "Love this dress! I bought the blue color for cosplay, but I adore how it looks on me and plan on buying another color for my everyday wardrobe. It fits true to size and is slightly stretchy." —Hannah & Caleb
Price: $16.99+ (available in sizes S-XXL and in six colors)
21. A Snow White ensemble that will have you checking that trick-or-treat bag about a million times. MAKE SURE THAT NO ONE SLIPPED IN A POISON APPLE! You never know these days!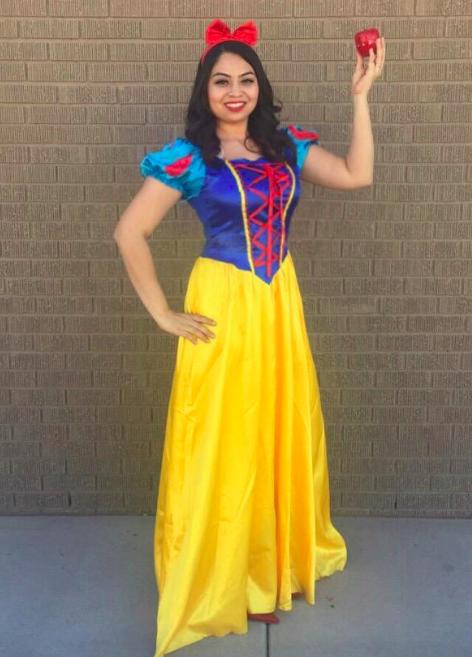 This set comes with a dress and headband.
Promising review: "Great costume! One of the most comfortable that I've ever worn. I ordered the large for length (I'm 5'9") and it was a great length, just a bit loose fitting (but the corset can be tightened or loosened so that it wasn't huge on me). This is not a very expensive-looking costume, but it wasn't itchy (I feel like most costumes are itchy) and it worked great!" —Rachel
Price: $27.95+ (available in sizes S-XL)
22. A nanny costume guaranteed to expand the vocabulary of anyone wearing it. New word of the day: Supercalifragilisticexpialidocious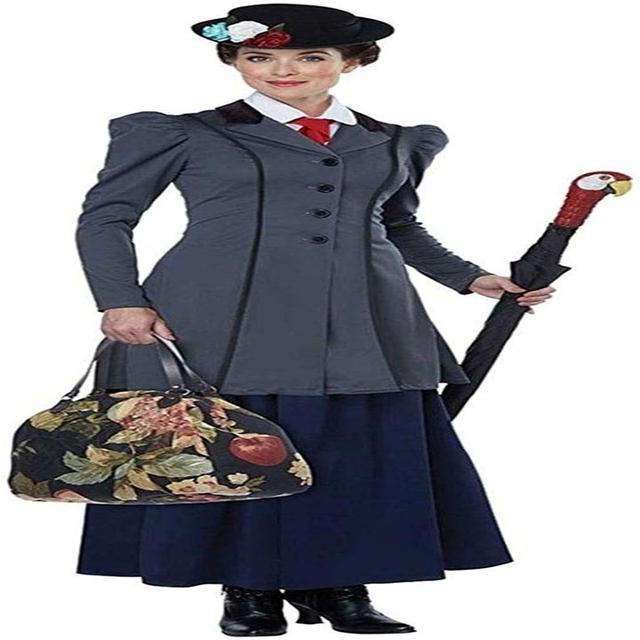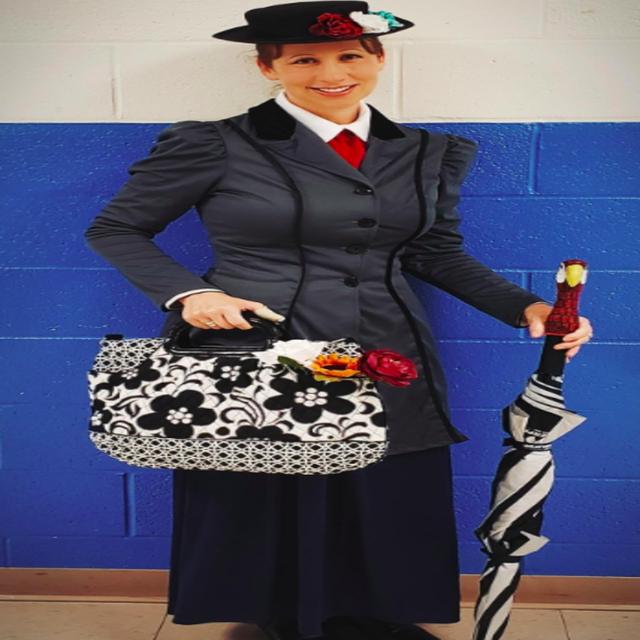 Amazon, amazon.com
Promising review: "This costume is awesome!! Comes with a coat, a skirt, a dickey, a tie, hat/flowers, and a parrot umbrella handle top. Love how you do not have to buy extra accessories unless you want a bag and boots. Plus, it fits pretty true to size." —Mikala Wilder
Price: $35.96+ (available in sizes XS-XL)
23. A three-piece costume that'll make your Hauntober more ~bewitching~ than ever before.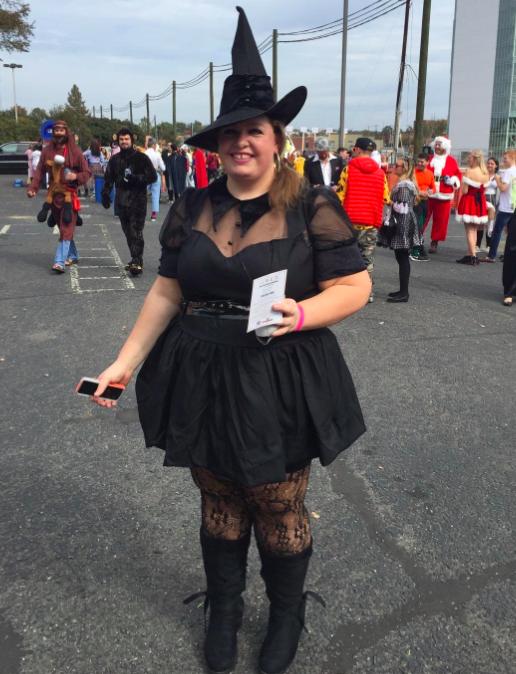 Promising review: "This is a great costume! I got so many compliments while wearing this on Halloween! I ordered up a size, and it fit perfectly." —Emily M.
Price: $22.73+ (available in sizes XS-3X)
24. OR! A Wicked Witch-inspired outfit you should absolutely NOT put near water. It will melt. Please listen to me.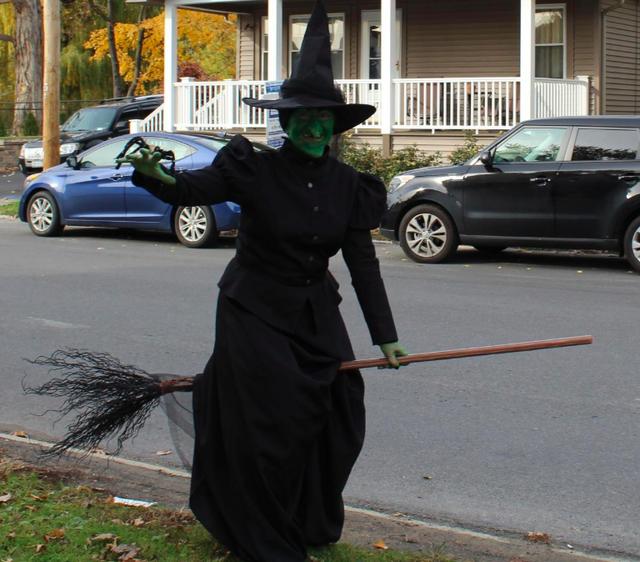 This costume comes with a full length gown, tulle petticoat, a hat, and stick-on black fingernails
Promising review: "This costume is fantastic. The fabric is nice, the costume is well made, and the accessories are spot-on. Every year we do a family costume and this year we are doing The Wizard of Oz. This is the perfect Wicked Witch of the West costume!" —dixie
Price: $52.94+ (available in sizes S-3X)
25. A tee-and-cape combo for the ~Gal~ who needs a simple, inexpensive costume for a Halloween bash.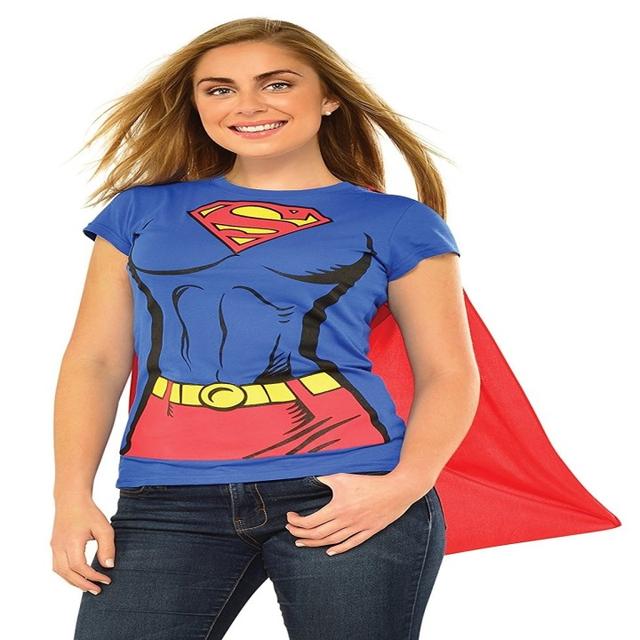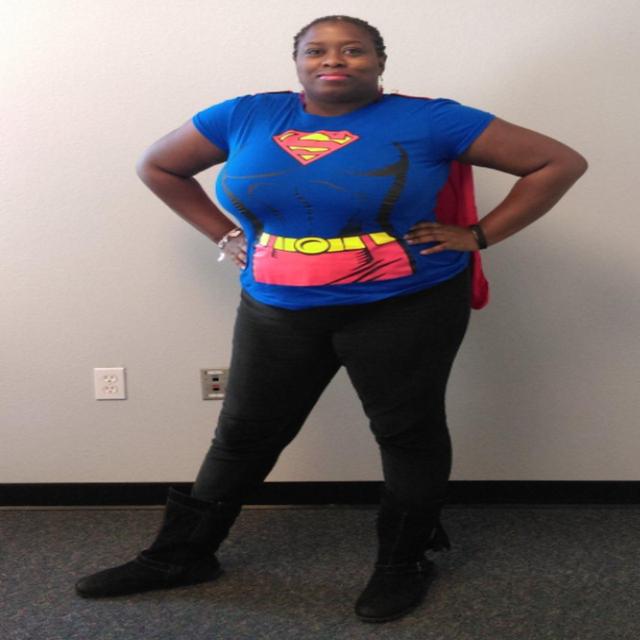 Amazon, amazon.com
Gal as in Gal Gadot, the actor who plays Wonder Woman. Boom boom chh.
Promising review: "Simple but awesome. I'm wearing this to work for Halloween and for taking my daughter trick-or-treating. I also plan to wear it to Magic Mountain at some point. The shirt and cape are good quality, the cape can be removed if needed, and the velcro holds strong. It does fit snug so definitely size up when ordering!" —Mrs. Price
Price: $6.76+ (available in sizes S-2X)
26. A carrot jumpsuit for anyone who would like to provide a stark contrast to ALLLL of the candy being consumed around them.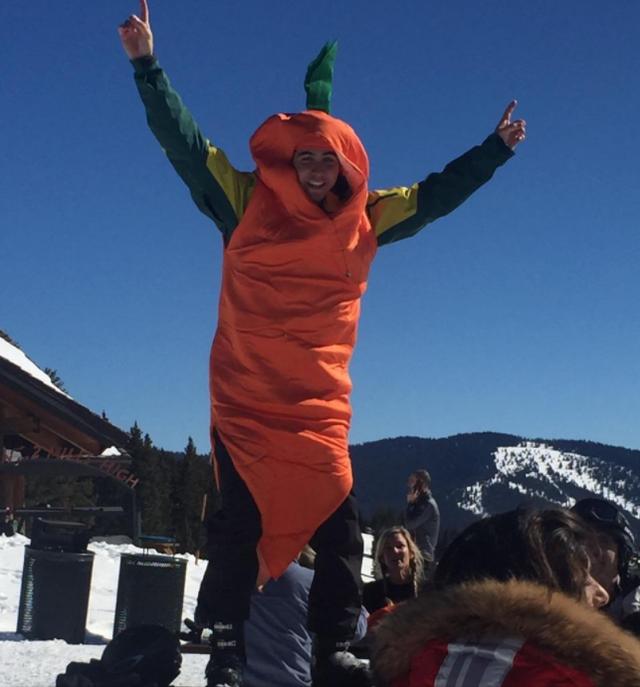 Promising review: "Honestly got what I expected. A giant carrot suit. Nothing more nothing less. It was a great costume. No one expects a carrot." —Colin
Price: $22.49+ (available in sizes S-XL)
27. A feline catsuit sure to have to you ~feline~ yourself this October the 31st. I don't say this lightly — but meow meow hiss, this is such a hot costume.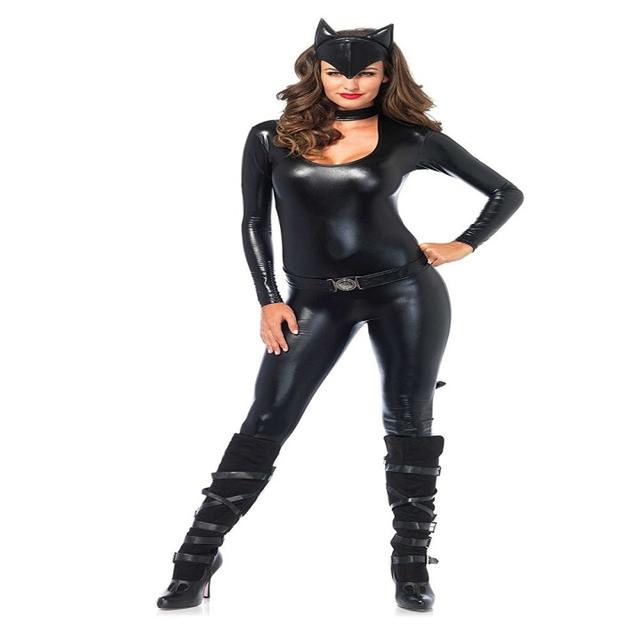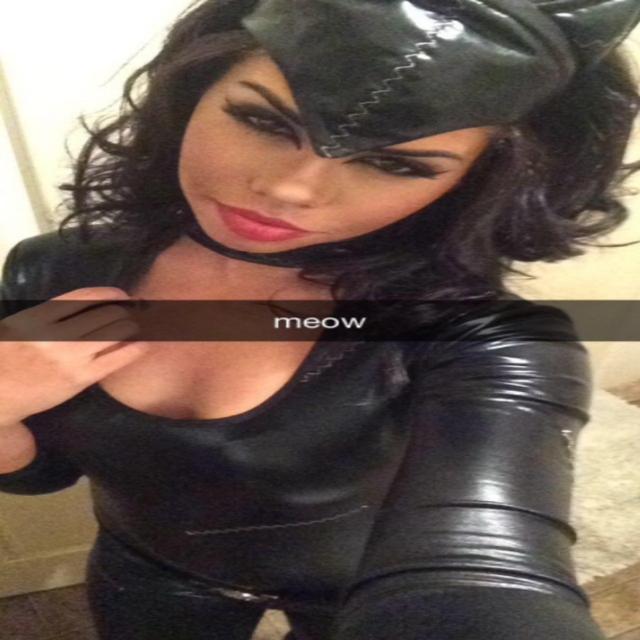 Amazon, amazon.com
And yep, this comes with the belt, cat headband, and tail.
Promising review: "Love love this costume! It's a little long, but it tucks just fine into my boots. The material is also a little thicker than I thought it would be, but is very comfortable and has a nice stretch to it that allows me to wear leggings underneath for extra warmth. A great costume for a great price!" —BeadLover
Price: $32.63+ (available in sizes XS-XL)
28. Lloyd and Harry-inspired onesies that will allow you to honor the greatest film ever made. That's right — Dumb and Dumber, folks. WHY DO COMEDIES NEVER SNAG AN OSCAR?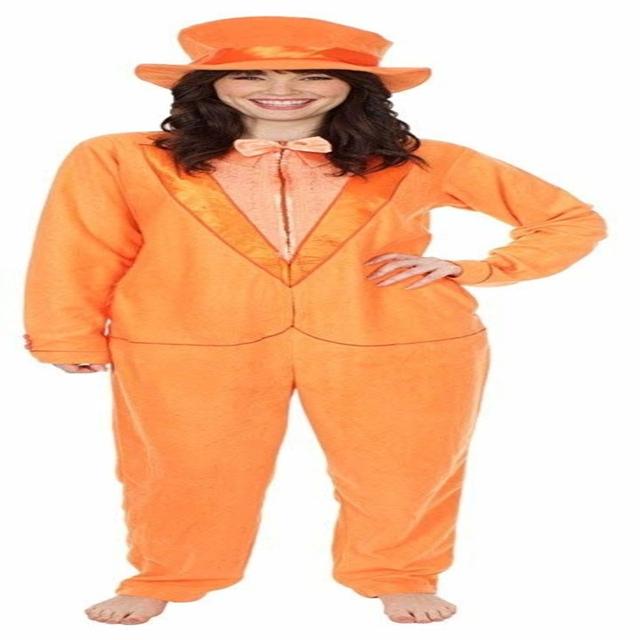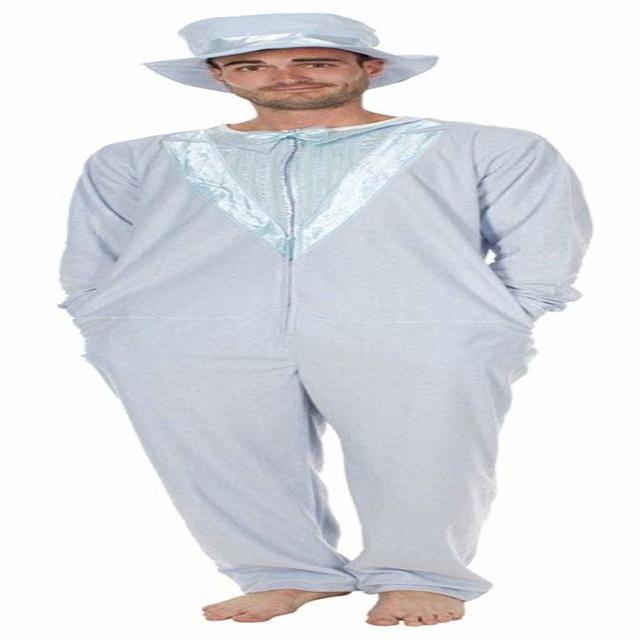 Amazon
I have watched Dumb and Dumber at least 907 times in my life. I know every line of dialogue and even find myself humming the soundtrack on occasion. I swear I have a life.
And yes, both onesies come with a top hat.
Price: $35.95+ (orange, available in sizes S-XL) and $35.95 (blue, available in sizes S-XL)
29. And last but not least, a fleece knit sweatshirt that any Hocus Pocus fanatic needs to own. This super soft garment is as lit as the black flame candle and can basically act as a substitute for the Halloween costume you just...didn't want to wear.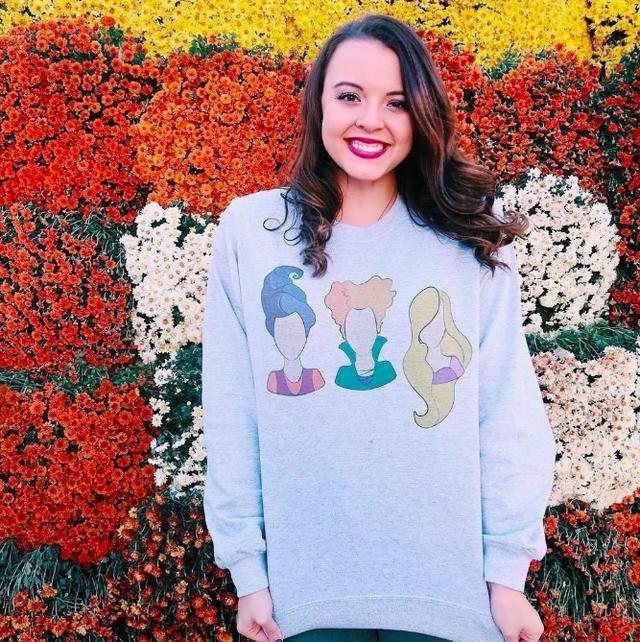 Promising review: "OMG my month of October is made. Today is the first day I've worn this sweatshirt, but holy cow. It stood up excellent against the washer and is so warm and comfy. Just as pictured/described. I usually wear a unisex small but ordered a Medium so it would be extra roomy and look good with leggings. I've also received so many compliments because DUH, the Sanderson Sisters. Would absolutely recommend and buy again!" —A. Jost
Price: $24.99+ (available in sizes S-XXXL and in two colors)
Showing up to the Halloween party sans the cat ears you usually wear, fully ready to win that costume contest prize: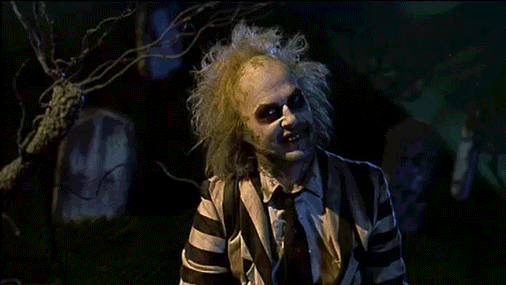 Warner Bros.
The reviews in this post have been edited for length and clarity.