Chicken Caesar Pasta Salad + Meal Prep
A lightened up and easy gluten free bow-tie pasta salad with all the delicious flavors of a Caesar Salad. Perfect for a summer picnic, potluck or barbecue!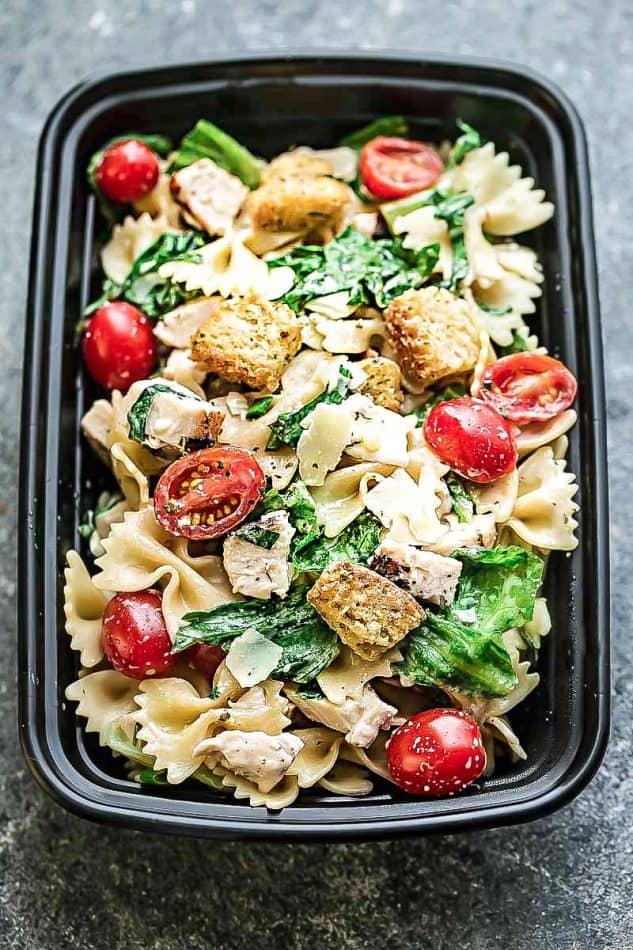 Ingredients
<h4>Dressing (or use 1 cup of your favorite Caesar salad dressing):</h4>
1 cup plain Greek yogurt a thicker Greek yogurt brand works best - I use Skyr non-fat
1/3 cup freshly grated Parmesan cheese
3 Tablespoon freshly squeezed lemon juice
2 teaspoons Dijon mustard
2 teaspoons Worcestershire sauce
2 teaspoons anchovy paste or 2 anchovy fillets highly recommended
salt and black pepper to taste
<h4>For the Salad:</h4>
3 cups pasta cooked according to package directions and cooled (I used farfalle)
4 cups romaine lettuce chopped
2 cups cherry or grape tomatoes cut into halves
1 green onion thinly sliced
1 Tablespoons fresh basil leaves thinly sliced
1/4 cup grated Parmesan cheese plus more for topping
1-2 cups cooked chicken breasts diced (grilled, roasted or rotisserie would work great)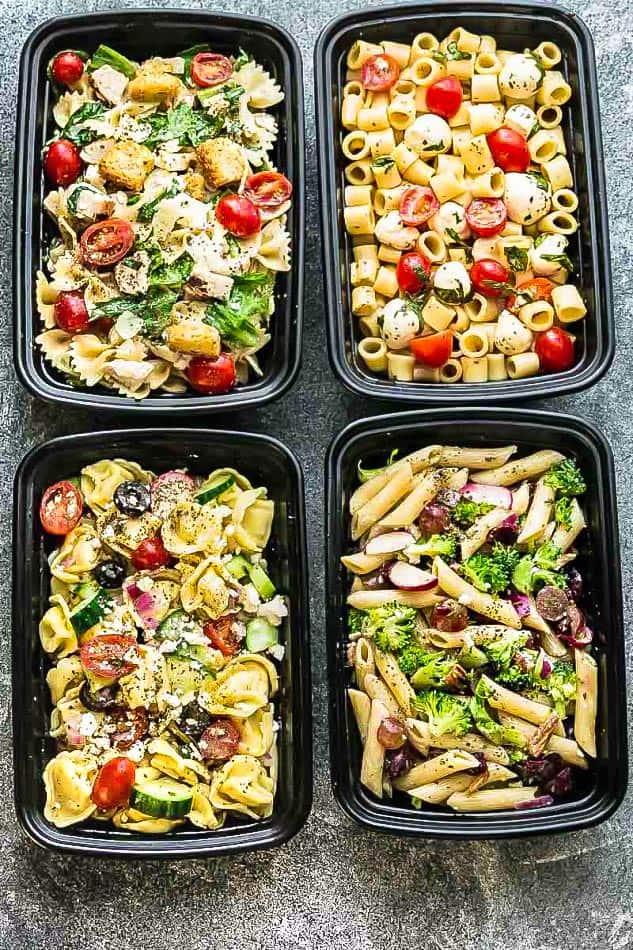 Instructions
To make the dressing: In a small food processor or a high speed blender, add all the dressing ingredients and puree until creamy and smooth. Or alternatively, you may add all ingredients to a jar with a tight-fitting lid and shake vigorously until mixture is well-blended. Season with additional salt and pepper if needed, and add 1-2 teaspoons milk or water if needed to thin out the dressing to your desired consistency.
To assemble the salad: In a large bowl, mix the pasta with enough dressing to coat evenly. Cover and chill in the fridge for 10 minutes. Toss in the rest of the ingredients, except for the croutons. Pour the remainder of the dressing on top of the salad and gently toss to combine. Season with additional salt and pepper, as needed.
Sprinkle with grated Parmesan and croutons. Serve immediately or cover and chill in the fridge for up to 3 hours.
Recipe Notes
You can prep the dressing and coat the pasta up to 2 days ahead before assembling with the rest of the salad ingredients. Just keep in an airtight covered container
Bon Appetit!
Images and information are taken from the free source
September 6, 2018