People Are Not Happy About This Photo Trump Published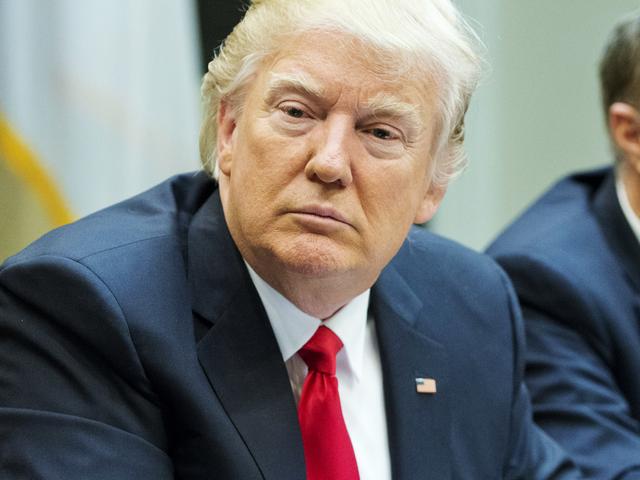 Last night, POTUS uploaded a picture to his official Twitter account that caused quite the controversy. The photo shows a grinning group, all doing Trump's signature thumbs-up sign.
Seems pretty standard, right? Well, it's not.
President Trump Verified account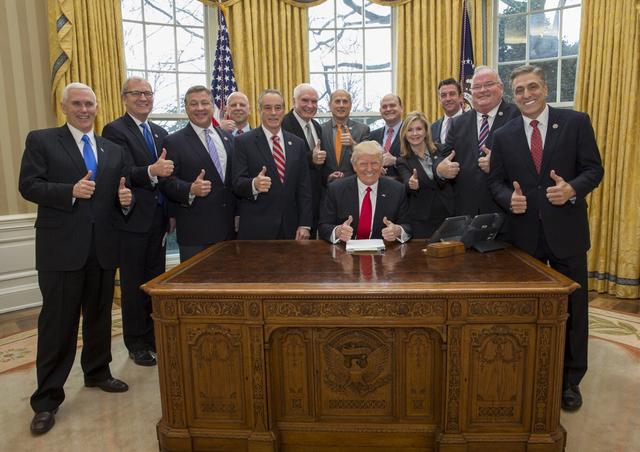 #MakeAmericaGreatAgain
You may ask, "Okay, so what's the problem?" Well, we'll give you a couple of seconds to stare at the photo.
Ready? Okay: Everyone in the picture is white and male, except for the lone woman...Who also happens to be white. Hey, 1950s, 2017 is calling, and it wants to know how it can be more like you.
We've written before about how the lack of diversity in Trump's cabinet is problematic. (Even if he's now trying to hire a Latino for the Labor Secretary position after his first pick dropped out.)
A cabinet, a Congress, and a staff that don't even try to resemble the racial, ethnic, and gender makeup of the U.S. is not only questionable — it's down right insulting.
And we're not the only ones who think so. Twitter users were also pretty unhappy about it.
Gabe Ortíz Verified account
@POTUS This picture is so white I need sunglasses.
Cole Ledford Verified account
@POTUS America has been great because of the diversity brought to our country by people of all identities. Shame on you for ignoring them.
Ana Marie Cox Verified account
Oh my fucking Christ in a Pilates machine.
Mazel Tov Cocktail Verified account
i mean you got white guys with hair in that picture, white guys with no hair, it's like a benetton ad

Anna Maltby Verified account
Wow, blue ties, red ties, orange ties — it's like a rainbow. So inspiring

Rosanna Landis Weave
@felixsalmon Oh look, I see a woman. They've really come a long way.
Patrick Thornton Verified account
This photo is oddly impressive in its retrogradeness. This takes serious effort in 2017.
Wajahat Ali Verified account
A white woman is now the token minority.
We feel like this should be obvious, but in case it's not: President Trump, it's 2017. Please do better.
Correction: An earlier version of this headline misidentified the people in the picture as President Trump's staff members. They're members of Congress.
Read These Stories Next
Trump Emailed A Bizarre Anti-Media Survey Out To His Supporters
Samantha Bee: House Speaker Paul Ryan Is The "Taylor Swift" Of The GOP
This Is Why Donald Trump Would Beat Elizabeth Warren In 2020
Related Video:
Like what you see? How about some more R29 goodness, right here?
So You Think You Can Govern: Recapping Politics Like It's Reality TV
The House Just Voted To Allow States To Defund Planned Parenthood Protections
Several Major Chains Shut Down For "Day Without Immigrants" Protest