Press conference shows something is wrong with our President
If one can say that the Trump presidency has been off to a rocky start, his press conference today was an avalanche of boulders. "I'm here today to update the American people on the incredible progress that has been made in the last four weeks since my inauguration" is what Trump said at the outset.
An update about incredible progress was not what followed over the next 77 minutes, one of the longest — and certainly the most bizarre — press conference in the history of the American presidency.
An explanation for the extraordinary display is not hard to come by. For the first month of his presidency, Trump has been engaged in frenetic activity, but things have not been going well. His signature immigration executive order was blocked by the courts, his cabinet appointees have been slow-rolled by Congress, he is engaged in open warfare with the nation's intelligence agencies, he is embroiled in a mushrooming scandal concerning possible collusion between his campaign and Russian intelligence, and his National Security adviser, General Flynn, was forced to resign for misconduct in yet a second, separate Russia-related scandal.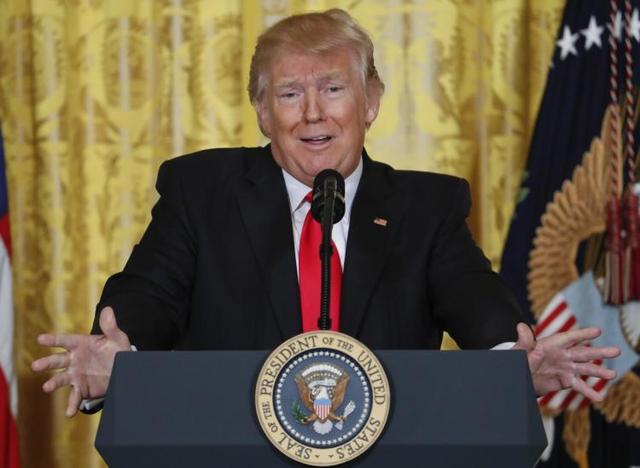 (Pablo Martinez Monsivais/AP)
On a daily basis, from early morning and in the dark of night, perhaps for many hours at a time, President Trump has been turning the channels, watching news coverage of this unraveling. And he has been stewing. The cascade of blunders and bad news was not supposed to be the way things happened. This press conference was an opportunity for a volcanic vent.
"I inherited a mess. It's a mess," was Trump's opening gambit. Never mind that he came into office with the unemployment rate at a post-recession low, and the stock market at a record high, he repeated this as if it were an incantation, "At home and abroad, a mess I just want to let you know, I inherited a mess."
If America has problems, insisted Trump, they come not from the White House but the press. The press, he explained, "has become so dishonest that if we don't talk about, we are doing a tremendous disservice to the American people…the press honestly is out of control. The level of dishonesty is out of control."
But what exactly is the press getting wrong? "I turn on the TV, open the newspapers," explained Trump, "and I see stories of chaos. Chaos. Yet it is the exact opposite. This administration is running like a fine-tuned machine."
The botched travel ban? To Trump it was not botched at all. "We had a very smooth rollout of the travel ban." Indeed, "the rollout was perfect."
A perfect rollout? A fine-tuned machine? If Trump believes any of this to be true, he is delusional. Yet even if he is not suffering from outright delusions, and is simply attempting to cover his obvious failures with glorious adjectives, his mind, as it was put on display today, clearly has wires crossed.
In one breath Trump says the hurriedly thrown-together travel ban was rolled out perfectly. In almost the very next breath, he says "if I would've done it a month, everything would've been perfect." Isn't there a contradiction here?
(CARLOS BARRIA/REUTERS)
In one breath, Trump says the stories reporting the Russia scandals engulfing his administration are "fake news, fabricated deal... It's all fake news. It's all fake news." In almost the very next breath he complains that those same stories are based upon illegal leaks coming from the intelligence agencies. "The leaks are real," he insists. "I mean the leaks are real…The leaks are absolutely real."
How can something be fake and absolutely real at the same time? At the presser Trump was asked exactly that by an intrepid reporter. His answer: "The news is fake because so much of the news is fake."
To which one can only reply: whatever.
All this would be comical if it were not so alarming. Something is deeply wrong with our president and the country is in danger. The danger will only be averted when the Republican leadership in Congress publicly acknowledges what they and the rest of the entire world already know: America's president is not wearing any clothes.